Posted on
TrainBoard.com
in the Inspection Pit Forum, and copied here for PD Blog reference.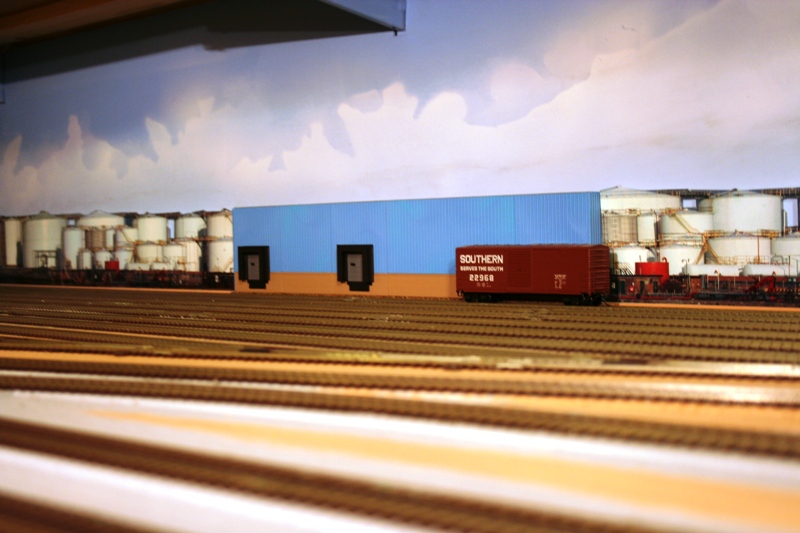 This is a short mini-clinic on how I mount images on foam core board for backdrops on my Piedmont Division HO scale layout. I collect photographs and images from my own collection and from research on the Internet. I have found a few great sources of free images on the Internet that include buildings, structures, landscapes, and industrial subjects that make for good backdrop candidates. So what makes for a good backdrop image? I try to pick images that have as straight an alignment with the front of the subject as possible; it has few shadows, and few if any foreground and obstructing objects such as trees, telephone poles, people or vehicles. Besides my own images that I have taken there are two sources that I have used for free images on the Internet. They are
Flickr.com
and
FreeFoto.com
, both have search functions that allow you to find just about any image you want. You just have to sign up for a free account with a valid email address. For example, the tank images that I found for my backdrop behind the staging/freight yard were found in the
Business
,
Industry
,
Oil Refinery
section of
FreeFoto.com
. (Click that link to view that page.) I also found images of North Carolina buildings by putting in a keyword search such as
North Carolina
,
brick
,
buildings
on
Flicker.com
. (Click that link to view that page.) Then the search process continues until I find candidate images that might make it to the layout. However, you can use any combination of specific search keywords to find your own images. The materials that I use for building the backdrops includes the inexpensive foam core found at Michael's or A.C. Moore Arts and Crafts stores, a typical 2'X3' sheet of 3/16" thick is usually around $1.00 +/- each. Sometimes I have seen them on sale for under a dollar each. I also use 8 ½" X 11" glossy photo papers to print the images from my color photo ink jet printer. The adhesive I use is the 3M 77 spray adhesive for attaching the printed images to the foam core sheets. After I have selected the image I will crop it and resize it with a photo editing software to the dimensions that fit the HO scale scene. For most of my backdrops I am trying to give it a forced perspective of distance. So sizing them to actual HO scale dimensions is not really necessary, I want them to look like they are further away than the actual structures in the foreground on the layout. Once the images are printed out I will take them to the layout room and cut out any sky or sections that will not fit with a sharp blade of my X-acto knife and also use a metal straight edge to assist with making the cuts. Once the outline of the image is cut I will place it on top of the foam core board and then I trace the outline with a #2 pencil. Then I cut out the shape of the image outline from the foam core. I will match up the image to the foam core shape and make a few adjustments here and there to ensure that the foam core is not showing through. Now that I have the foam core cut to how I like it in reference to the image I place it onto a large piece of scrap cardboard and spray it with the 3M 77 adhesive to give it a nice even coat. Allow the 3M 77 adhesive to set up for a minute or two and then gently line up the image and place it on top then I gently press the image and slide it around a bit to fit the cut out shape. I allow this to set up for 5-10 minutes. I then take some painters masking tape and attach a few pieces to the back of the foam core/image and make temporary placements on the Masonite backdrop until I like the way it looks. Then I will Elmer's Glue to make the permanent placements of the foam core to the backdrop.