Mike aka rs2Mike on the Model Railroader Forum General Discussion area asked this in a post dated November 07, 2007:
Packed away all my train stuff to get ready to move. They are gonna be away for a while as we get settled into the new house. So in this non train aspect I guess I will really hunker down to come up with a trackplan. My request to everyone here is do you have a pic of your trackplan i could peek at for ideas and I would also like your opinion on track planning software. I downloaded atlas and I keep getting a runtime error message after I lay about a dozen pieces of track. I have reloaded it several times and still get the message. Any pics of layouts would also help pass my long months away from trains. Thanks Mike
And my response is copied below: This is my layout track plan in it's most recent revision, as it has changed at least 100 times since it's inception. The most recent change was to add a double crossover switch and a loop over the stairway thus allowing trains to enter the main directly from the classification yard without having to back up or reverse the locos.
<>Track Plan
<>
<>3D View
<>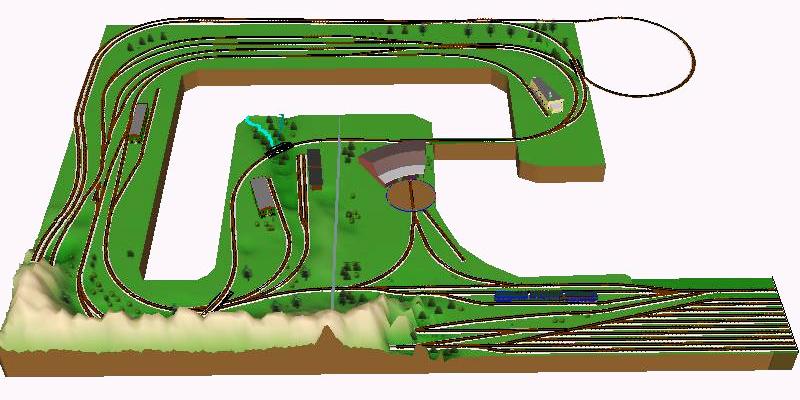 <>The plans were made with 3rd PlanIT track planning software, the latest is version 8.1.03 and is a vast improvement over the previous versions. As stated previously the initial learning curve is steep, but with time and comitment it is a robust tool for developing accurate track plans. The library of track, rolling, stock, structures and such is a nice to have addition. For example the track library includes the following scales: Gm, HO, N, NMRA, O, OO, S, and Z.Also, drilling down into the HO selections only, here are the available manufacturers:Atlas 83, Atlas 100, Bachman EZ Track, Bemo, Bemo HOm, Bemo HOm code 70, BK Enterprise, Central Valley 70, Central Valley 83, Central Valley Imperial, Central Valley Metric, Fast Tracks HO Complete, Fast Tracks HO Sectional, Fleishmann Model Track, Fleishmann Profi Track, Kato Unitrack, Micro Engineering, Marklin C, Marklin K, Marklin M, Peco 70, Peco 83, Peco 100, Piko Setrack, Piko A-track, Pilz Elite, Roco GeoLINE, RocoLine, Shinohara 70, Shinohara 100, Shinohara HOn3, Tillig HOm, Trix Express HO, Walthers 83.The nice feature here is that the available straights, curves, and switches are drawn to the manufacturer specifications that will match 1:1 with the actual pieces. Here is an example of a 1:1 ratio print out of a portion of the track plan with the Walthers 83 curved turnout sitting on top of the plan:
<>
<>Here is that section of track and cork roadbed completed on the layout: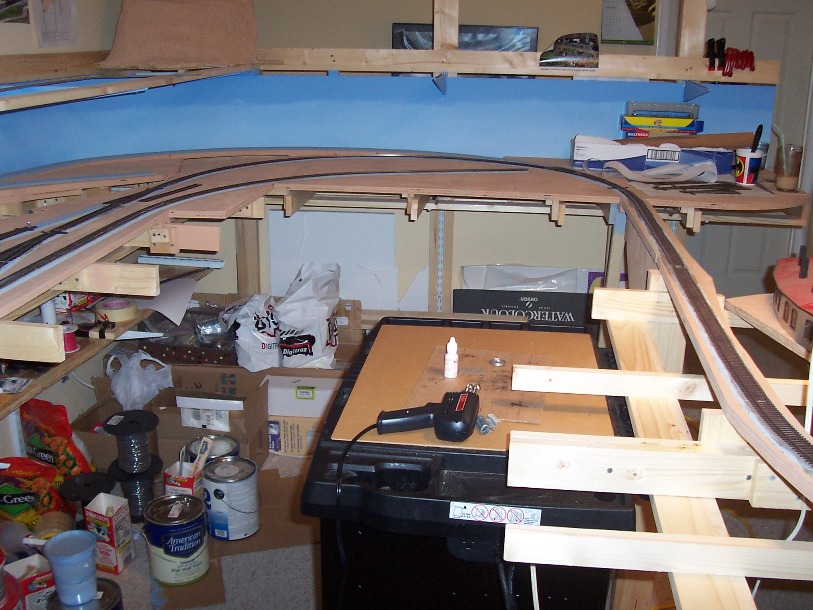 <>I have a short tutorial that I put together some time ago on making the 1:1 ratio printouts, it is on my Piedmont Division web site, here is the link to my 3rd PlanIT tutorial main page:
<>http://piedmontdivision.rymocs.com/3pitut.html Then click the link to 1:1 Printing.