Photo Gallery
Due to the large number of images I have expanded the number of photo pages for faster loading. I have separated the photo web pages by quarterly three month segments, this should make them easier to view.
Initial train room construction began in May 2006 with Phase I, otherwise known as the lower deck, and construction continues today. Some of the latest construction has not been documented at this time, however, as images become available I will post them to this site.
The subject of most of these images are of the layout construction progress, however, there are a few images of rail fan outings to the Apex Live Steam Meet in October 2006, and the Neuse River Valley Model Railroad Club Train Show in November 2006. I hope you enjoy the images!
Phase I - Lower Deck Construction
Gallery I ~ Photos May 2006 - July 2006
Gallery II ~ Photos August 2006 - October 2006
Gallery III ~ Photos November 2006 - January 2007
Gallery IV ~ Photos February 2007 - April 2007
Gallery V ~ Photos May 2007 - July 2007
Gallery VI ~ Photos August 2007 - October 2007
Gallery VII ~ Photos November 2007
Gallery VIII ~ Photos December 2007
Gallery IX ~ Photos January 2008
Gallery X ~ Photos February 2008
Gallery XI ~ Photos March 2008
Gallery XII ~ Photos April 2008
Gallery XIII ~ Photos August 2008
Phase II - Upper Deck Construction
No entries at this time.
---
---
Previews and Highlights
---
---
Just a few highlight images....
Notice the 3rd PlanIt 1:1 layout plan template exactly fits the Walthers Code 83 turnout, this is going to make track laying alignment very easy.

---
Added the center benchwork section, legs, L-girders, joists, and screwed the legs into the floor. Adding cross braces next to stabalize the complete unit.


---
North Carolina Live Steam Meet, Apex, NC. That's my friend Duke giving Monique and I a tour of the grounds...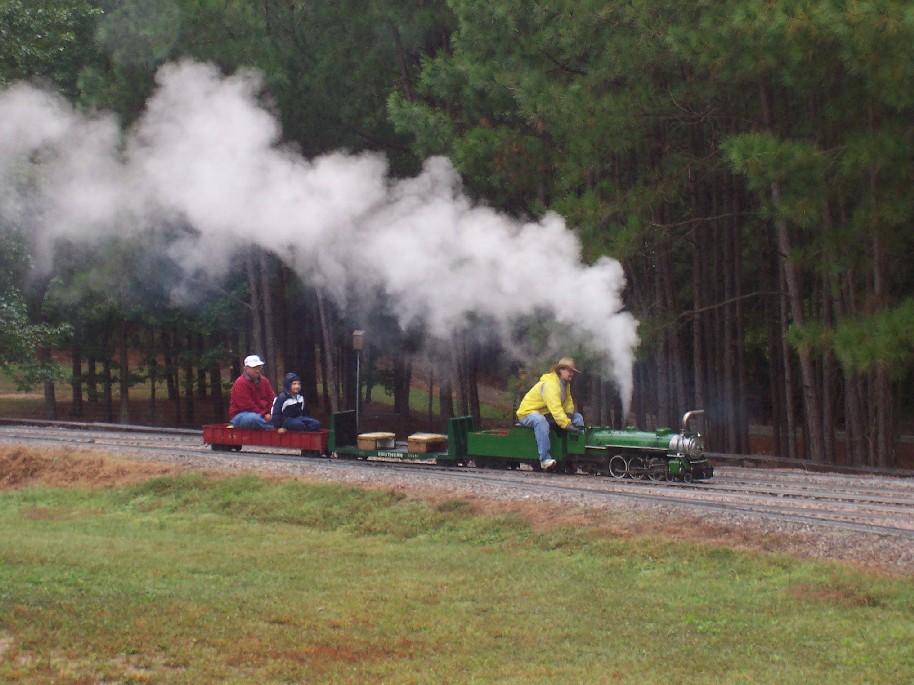 ---
22nd Annual Neuse River Model Railroad Train Show, in the Exhibition Hall at the Fairgrounds in Raleigh, NC. That's Kim Parker, owner of Train Buddy holding Flat Stanley. And that's Dave Volmer, with his N scale Pennsy mobile layout.


---
Painted cork roadbed grey flat latex Kilz primer coat.